What is Plasma™ LED?
Plasma™ LED is a type of Chip-On-Board (COB) LED made by ORACLE Lighting. Chip-on-Board or "COB" refers to the mounting of a bare LED chip in direct contact with a substrate (such as silicon carbide or sapphire) to produce LED arrays. COB LEDs have some advantages over other LED technologies, such as Surface Mounted Device ("SMD") LEDs. Most notably, COB technology allows for a much higher packing density of the LED array, or what light engineers refer to as improved "lumen density". This technology features an evenly-lit appearance with a very bright light output. 
What is Plasma LED strip light?
The COB led strip is a high-density led lighting strip made by COB encapsulation, which can reduce the thermal resistance of the high-density strip circuit system, greatly improves the life of the LED, and the light flux density is high, the glare is small, and the light is uniform and there is no dark area. This results in higher intensity and greater uniformity of light. Using COB LED technology can greatly reduce the energy consumption of the LED array while keeping light output constant. For example, a 500 lumen COB LED array can be many times smaller and consume substantially less energy than a 500 lumen SMD LED Array.
Product Specification
| | |
| --- | --- |
| Product Name | Plasma COB LED Strip Light |
| Model | (Varies) |
| LED Light Source | LED Chip with COB Package |
| LED QTY/ Meter | 528 LED/ Meter |
| PCB Thickness | 2mm |
| PCB Color | White |
| Tape | VHB adhesive tape |
| Length per reel | 16.4′ (5M) or 32.8′((10M) 24V only)  |
| Standard Connector | 20AWG red/black cable on the end |
| Cut Length  | 45.5mm |
| PCB width | 10mm |
| LED Strip Dimension | 10mm (Width)*2.3mm(Height)*Length |
| Length | 5000mm (16.4ft) per roll |
| Length of Connection Cable | 150mm  |
Electrical Parameters
| | |
| --- | --- |
| Model | B528-24V |
| Color | 2500K, 3000K, 4000K, 6000K |
| Input Voltage | DC24V |
| Ra | >90 |
| LED Beam Angle | 180° |
| Lumen Output/Meter | 1200/1250/1300/1350 |
| Work Temperature | -20~60° |
| Working Humidity | 40%-70%RH |
| Working Lifetime | 25,000+ hours |
| Power | 14W |
| Warranty | 3 years |
Dimension:
Plasma™ LED Flex Strip can be folded in 180 degrees without damaging the light strip.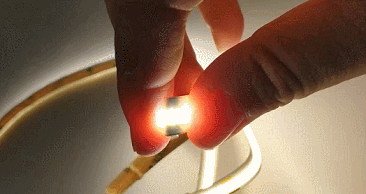 It has better bending ability compared to SMD strip.

Features:
COB packaging technology, high brightness, low light decay, the life expectancy of up to 25,000 hours;
Luminous color: 2700K, 3000K, 4000, 6000K;
All materials are RoHS compliant;
Easy to install, VHB tape backing.
The high luminous efficiency and uniform illumination;
180° light-emitting area, good light-emitting effect;
Product Images: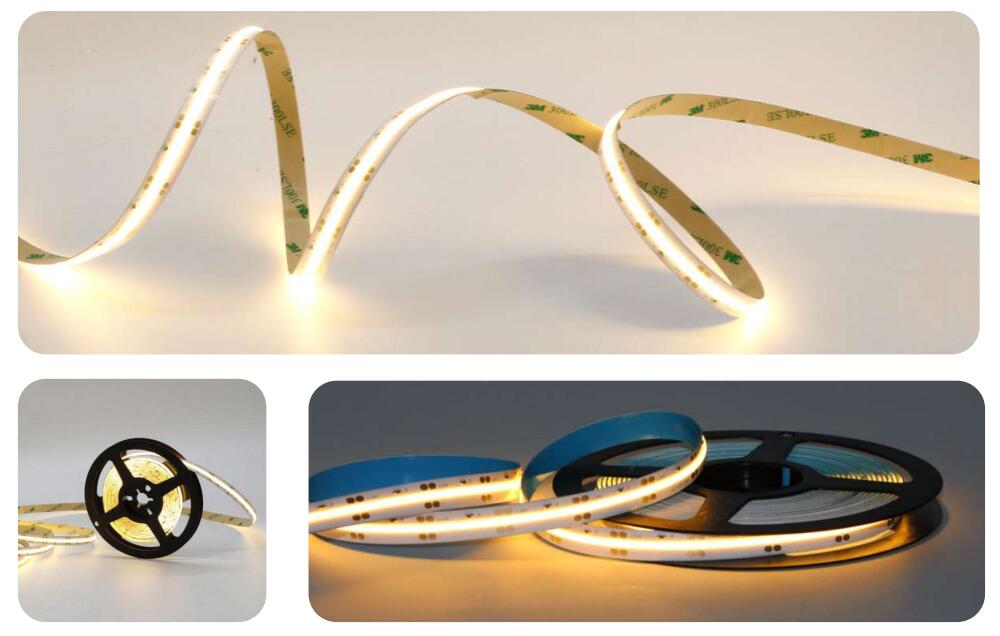 Using Aluminum Profiles with Plasma LED Strip:
Normally, the light strips used in the aluminum profile are conventional SMD LED strips, these can appear as "dots" on close inspection.
Plasma LED Strips with COB light effect has higher density LED chips will be a better effect and eliminate the "dots" you see.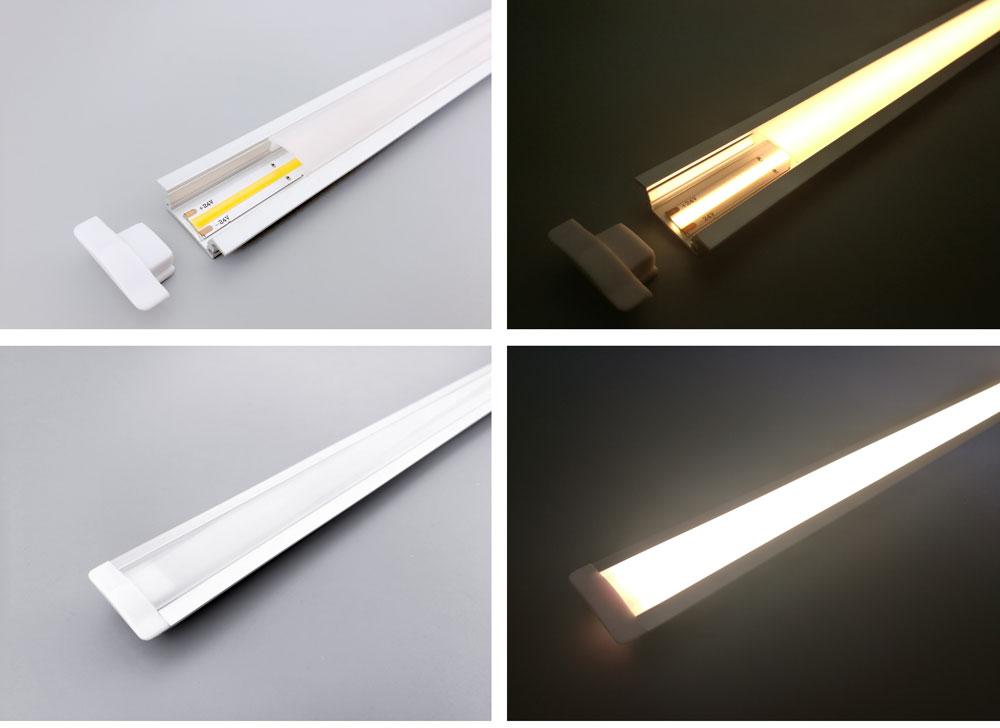 The height of this aluminum slot is 7mm, which means that the distance between the cob led strip and the PC cover is only 5mm. Even though the led strip is close to the frosted PC cover, there is no significant illumination dark area or dots visible. This provides a better linear lighting experience.
Please contact sales@oraclelights.com or call 800-407-5776 with any questions you have or for a quotation. We would love to hear from you and provide you with the products you need.